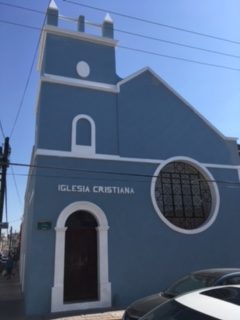 English Speaking Worship is held at 9 a.m. Sundays from the first week in November through the last week in April.
Coffee and Fellowship in the courtyard follows worship.
Online broadcast of our worship can be found on YouTube Channel:  Iglesia Cristiana Congregacional de Mazatlan. (Look for the "cultos de los Americanos"  which means the English Languages Worship Services.)
Holy Communion celebrated every Sunday.
No matter who you are, or where you've been, or where you are on life's journey, you are welcome in this community of faith and at the Lord's table.
We are an ecumenical worshiping group.  We utilize a variety of Statements of Faith.  Pastor Rebecca Ellenson preaches and plans the worship services.  A group of lay people lead the worship on a rotating basis.  An adult choir is led and accompanied by volunteers for several months each year.  There are opportunities for bible study, fellowship and service.  Offerings support our seasonal worship needs and support our host congregation's ministries and outreach.
Location:  In El Centro, on the corner of 5 de Mayo and Melchor Ocampo.  Just a few blocks west of the Cathedral.
Join us for a Sunday or for the whole season.  All are welcome!