We're Rebecca and Steve.  Welcome to our Blog! 
We started visiting Mazatlán over ten years ago for vacations.   Right away we knew we wanted to live here someday.  Mazatlán is known as a colonial city on the beach with so many great features:  a superb theater with an orchestra, ballet and modern dance companies, lots of live music, a pro baseball team, and a Malecón that stretches for 21km or 13 miles along the wide sandy beach.
On cold winter days in Duluth, MN we would daydream about the day when our kids were grown and independent and we could spend our winters in Mazatlán.  We started following  a great blog about two expats from the USA and their adventures moving to Mexico.  Our friends and family probably didn't really believe that we'd ever make do it.   But, a year ago we made the move and here we are, with a blog of our own!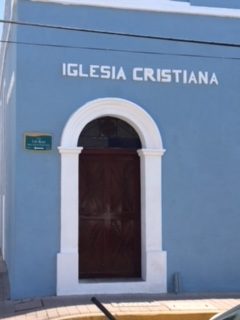 From November through April, Rebecca serves as the guest pastor for the English Speaking Congregation at Iglesia Cristiana Congregacional de Mazatlán, fondly known by the expat community as "The Blue Church."  Worship is on Sunday mornings at 9 am.  We are grateful to the host congregation for welcoming this ecumenical worship community into their space.  No matter who you are or where you are in your faith journey, you are welcome!  Our worship services are posted on YouTube on the Iglesia Cristiana Congregacional de Mazatlán channel.  click here.
We'll be posting sermons, reflections on faith, and descriptions of our life in Mazatlán.  Thanks for reading!